Background of Development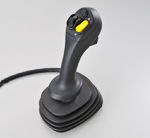 The newly-developed product is an operation lever equipped with various functions such as driving back and forth of the vehicle and changing the arm angle.We have realized high durability and reliability for tough operations at construction sites as well as the use under the harsh conditions from a frigid environment to a desert environment.Designability was prioritized for the shape of the lever. Unique approach was taken in choosing material, designing the body and the structure of the sensor portion in order to achieve a good balance between durability and safety within a limited space.
The switch (composed of four units) has dustproof and waterproof functions.
Alternating Seesaw Switch
Momentary Seesaw Switch
Momentary Push Switch (2 units)
Features
Excellent durability performance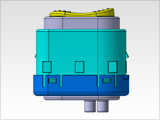 To realize high durability, the newly-developed protective structure has been adopted for the alternating seesaw switch, which does not allow excessive load to be put on the internal portion.
Improved reliability by non-contact angle sensor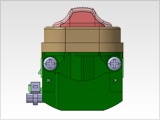 We developed a momentary seesaw switch as an arm's operation angle selector switch that uses a non-contact angle sensor.The switch enables the control of the vehicle arm to be kept accurate by securing high accuracy output without durability deterioration.
Compact style with excellent design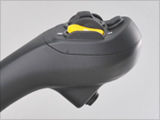 Exhaustive compact design for each unit and optimization of the internal layout realized the incorporation of the required functions while maintaining appearance design supplied by customers. This supports the functionality and designability at the same time.
Pursuit of operability through module development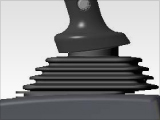 We designed the whole lever as one module. The rubber boot portion was designed by analyzing deformation and mutual interference to provide a smooth operational feeling.