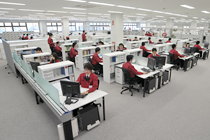 To offer new-concept switches to market instantaneously–an imperative for a company that specializes in switches–we have introduced IT in ordering, development, and production information. What is more, we have converted the entire production process from mold manufacture, parts procurement to production control into one integrated system, so that we will meet the expectations of our customers. Two powerful tools have helped us achieve this: ADAMS (Asahi Denso Advanced Manufacturing Control System) and ADIES (Asahi Denso Integrated Engineering System). The know-how we have built up over the years underpins our speedy supply of low-cost products.
Three-dimensional CAD data the heart of our reduced development time
The development of new products that meet market needs and draw out what the market wants…. To speed up that process, we at Asahi Denso have constructed a development system centered on three-dimensional CAD design data.
By linking CAD to ADIES II, an engineering control system that uses design diagram data in the tens of thousands for technical control and electronic approval, we improved design quality and design efficiency, aiming to improve customer satisfaction.
1.Reviews and meetings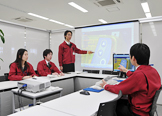 Meeting spaces are available in the center of the Engineering floor. Meetings utilizing CAD screens can be easily initiated, and this space also contributes to promoting team activity and to improved design quality.
2.Product development and product design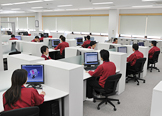 The spacious layout and IT-oriented environment facilitate both individual work and team communication. Information sharing is promoted, and short-term development is achieved through flexible handling tailored to the specific topic.
3.Concurrent engineering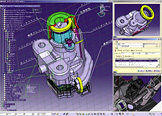 Personnel from various in-house departments engage in information-sharing at early stages, with digital mockups and other means being used to convey information. We strive for designs that incorporate both cost considerations and ease of assembly.
4.Metal die fabrication
Using three-dimensional metal die design data, we put milling machines, wire cutters, electric discharging machines and other equipment to effective use in highly efficient fabrication of metal dies.
5.Part manufacturing (molding)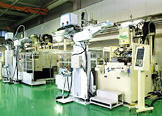 We use the completed metal dies to manufacture parts, striving constantly for labor-saving approaches that result in higher efficiency.
6.Assembly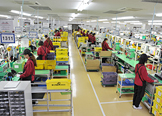 A cell-style approach is used that brings operator movements, equipment and parts together in a centralized location, for more efficient assembly.
Value-Enhancing Product Development
Development of Desirable Products
In view of the recent development of vehicles equipped with increasingly more functions such as Safety Support Units or Convenience Enhancing Devices, we, Asahi Denso, are also introducing products provided with more switches. How we lay out these switches has a large impact on how satisfied customers are using the product. However, with a broad range of body build among the customers, it is not easy to make a single product suitable for all physical structures. Therefore, not only do we seek after functionalities and excellence in design performance, we also seek after better user-friendliness desired by all users.
Pursuit of Operability and Application of Ergonomics
The coordinated moves of 27 bones in a human hand, working in combination with one another, allow for dexterous manipulation using both palm and fingers. Studies of complicated hand motion together with the knowledge of usage environments enable us to develop easy-to-operate switches.
To produce user-friendly switches, we Denso measure control forces and operation amount, or perform evaluation of operability by making a mock-up using a 3D printer, or creating a prototype.
With the help of accumulated knowledge, we go on to develop comfortable-to-use switches smoothly operable with moderate amount of force. Through consultation with customers, we make a proposal for how best to manage both external design and other elements such as switch layout and its operability, operational direction, shapes of operational parts, or sizes of parts.
Looking ahead, we are preparing ourselves for the next phase, which enables us to predict manual movements before making 3D mock-ups or prototypes. In doing so, we are studying how to carry out operability evaluations in the virtual space by using 3D model created with CAD data and a human hand.
Co-development with National Institute of Advanced Industrial Science and Technology (AIST)
The National Institute of Advanced Industrial Science and Technology (Digital human research team of Artificial intelligence Research Center)assists us in developing a model to evaluate the virtually reproduced operability of switches.
We use the 3D "Digital Human Model" to reproduce various types of body build and quantitatively evaluate their switch operations so that the stress, which users would otherwise have to bear is reduced, and to design the module to create more natural and comfortable user experience.
This technology called the "Digital Human Technology" helps us recreate every imaginable body structure, work out and estimate every conceivable interaction between user and the products, in the process of manufacturing "Safer and Easier-to-Use" products.
Firstly, we record an operation with a mock-up (photo.1) and then, digitally reproduce a captured operation (photo.2). By quantitatively analyzing the data together with subjective estimation result collected at the same time, we aim to produce the model format for operational evaluations.
【Photo.1 】  Mark the back of an operator's hand with infrared reflection markers at thirty locations, and at three or more locations on a mock-up to calculate the operation using the optical motion capturing device. 
【Photo. 2】  Render the calculation result of the model hand (skin and linking configuration) and make changes to the reproduced image so that the markers perfectly match the original.
3D Printer
We often see and hear the word "3D printer" these days. This trend was triggered by the bestselling book "MAKERS" written by Chris Anderson, and by the U.S. President Barack Obama's State of the Union address made in February, 2013. In "MAKERS", the author implied that "New Industrial Revolution" will occur, in which everyone can become a manufacturer thanks to the 3D printer. In the President's State of the Union address, his administration will promote the widespread use of 3D printers in private enterprises, universities, and raise awareness about manufacturing industry through the use of such equipment, and thus raising the level of the U.S. manufacturing industry.
Also in Japan, the Ministry of Economy, Trade and Industry regards 3D printers as the fundamental technology which contributes to the improvement of competitiveness of the manufacturing industry, and is appealing for its introduction.
What is a 3D Printer?
A 3D printer is the equipment that creates three dimensional solid objects by laying down successive layers of material.
It is broadly divided into three categories depending on the purpose.
"Machine Tool Type"
The type which plays a role of a "machine tool", for example sintering metallic or resin powder to mold parts, or making a mold itself.
"Prototype Making Type"
The type which hardens photo-curable resin, discharged from an ink-jet head, by irradiating ultraviolet rays. The type whose purpose is to fabricate prototypes, models, or jigs to be temporarily used in the manufacturing process.
"Personal Type"
The type which fabricates objects by heating thermoplastic resin and pushing it out from a nozzle, then leaving it to be hardened by natural cooling. In a manufacturing process, it is used for the purpose of making a design and an idea into a form.
The Merit of Introducing 3D Printer
Improving the development speed
It is now possible to check the prototype in one or two days, which conventionally took several weeks when you outsource the prototype making in the development phase of the manufacturing process. This leads to a significant reduction in time and outsourcing costs, and it makes a great contribution to shortening of the development period.
Improving the designing quality through front-loading
Front-loading means to use much time in the early stage of a design process and identify problems to prevent design corrections. We introduced a 3D printer and became able to find problems without making prototypes, which contributes to the improvement of design quality.
Comprehensive evaluation methods for introducing more reliable new products to the market
With the appearance of products that go beyond our traditional understanding, such as hybrid products that combine mechanical structures and electronics, we are proceeding with the introduction of evaluation systems in order to secure the high level of performance and quality that those products offer.
For example, we have a system that evaluates technologies that deal with environmental factors such as vibration resistance, weather resistance, and water resistance, and a system that evaluates technologies that deal with sensibilities like color and feeling. Accompanying advances in electronics technology, we have also introduced an evaluation system that measures electronic noise, and we are continually striving to secure design quality and product reliability from every possible standpoint.
EMC electrical wave verification room
High-voltage testing
Integrated microcomputer product development
Environmental evaluation unit (test area)
Precision measurement and analysis room