Thank you so much for your coming.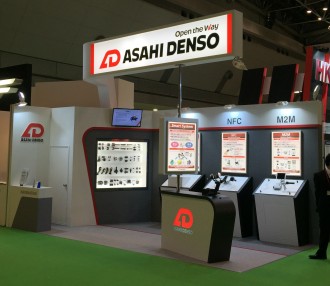 Asahi Denso had exhibited our products and technologies at the 44th Tokyo Motor Show 2015. We are so pleased that we had lots of attendance those days.
Download

Exhibits
For more than 50 years, the Asahi Denso group has been working together with customers around the world to develop, design and produce superb products, and our customers have come to have confidence in and rely on our products. We see the mission of the Asahi Denso group as creating an ongoing flow of Human Machine Interface (HMI) productsacclaomed as "Cool" by the rest of the world, that transcend cultural differences, through our "Open the Way" spirit. In the exhibit, we introduced our element technology and products specializing in Next Generation In-Vehicle Communications including In-Vehicle M2M technologies and battery management systems.
Smart System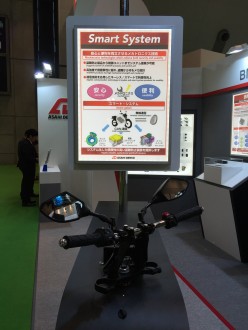 We pursue better usability for riders by developing smart system, not only for keyless entry, but also to cooperate it with electrically motorized tank caps and steering locks by in-vehicle communication (CAN, LIN, etc.). With the long history of manufacturing shutter locks and ignition switches, we are able to supply highly reliable smart system.
In-Vehicle M2M Unit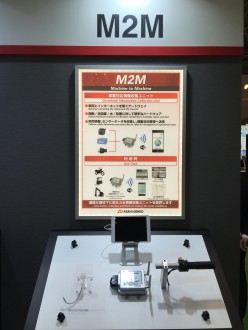 We introduced our In-Vehicle M2M Unit which can be used under severe environment such as on motorcycle, construction machine, and agricultural machine. It collects various data including vehicle information, sensor data, and camera images, which is usable for managing operational status. We contribute to popularization of IoT (Internet of Things) as a bearer of gateway that connects vehicles and internet.
Battery Management System (BMS) for Lithium Ion Battery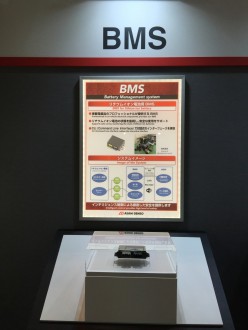 The BMS, which Asahi Denso developed together with subcontractor, can monitor up to 8 cells. Furthermore, construction of the battery network is possible with the use of several BMS. Not only does it measure battery's voltage, current, capacity and temperature in real time, it also enhances user experience with the functions such as self-diagnosis, maintenance tool, and alarm (and alarm stop) during an emergency.
Smartphone Control Unit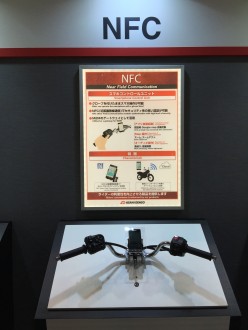 We displayed our Smartphone Control Unit with NFC (Near Field Communication/ short-distance wireless communication). Smartphone applications, such as music and navigation, can be operated from the handle switch on vehicle without taking off gloves, which makes touring more comfortable and enjoyable.
Oct. 29 (Thu.) - Nov. 8 (Sun.), Tokyo Big Sight
"Your heart will race."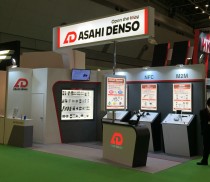 We exhibited every time from 1969 in the Tokyo Motor Show that gather automobile and motorcycle manufacturer  from Japan and abroad . Our exhibitor is 24rd in this time.
We introduced to the topics of development and technical capabilities as electrical parts manufacturer of motorcycle and automobile related.

Tokyo Motor Show 2015 Official web site
>> http://www.tokyo-motorshow.com/en/ <<
Name of Event
The 44th Tokyo Motor Show 2015
Organizer
Japan Automobile Manufacturers Association, Inc. (JAMA)
Co-Organizer
Japan Auto Parts Industries Association (JAPIA)
Japan Auto-Body Industries Association, Inc. (JABIA)
Japan Automotive Machinery and Tool Manufacturers Association (JAMTA)
Japan Automobile Importers Association (JAIA)
Patron
Her Imperial Highness Princess Yohko of Mikasa
Chairman
Fumihiko Ike (Chairman of Japan Automobile Manufacturers Association, Inc.)
Show Dates
Dates
October 29 (Thu)-November 8 (Sun), 2015
Press Days
October 28 (Wed):
8:00-18:00
October 29 (Thu):
8:00-14:00
Preview Day*
Special Invitation Day for Persons with Disabilities**
October 29 (Thu):
14:30-20:00
Official Ceremony*** Day
October 30 (Fri):
9:00-20:00
General Public Days
October 30 (Fri)-November 8 (Sun):
October 30 (Fri)
12:30-20:00
Mon-Sat, Holiday
10:00-20:00
Sundays
10:00-18:00
Venue
Tokyo Big Sight
3-11-1 Ariake, Koto-ku, Tokyo [http://www.bigsight.jp/english/]
Support
Ministry of Foreign Affairs
Ministry of Economy, Trade and Industry
Ministry of Land, Infrastructure, Transport and Tourism
Ministry of the Environment
Tokyo Metropolitan Government
Chiba Prefectural Government
Organisation Internationale des Constructeurs d'Automobiles (OICA)
Japan External Trade Organization(JETRO)
*Admission limited to purchasers of Preview Day tickets
**Pre-registration(proof of disability documentation required). However, number of admission may be limited in the case of too many applications. Registration will open on this Website by the late of August.
***By invitation only