Thank you so much for your coming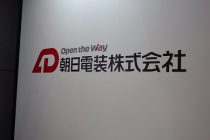 Asahi Denso had exhibited our products and technologies at the 45th Tokyo Motor Show 2017. We are so pleased that we had lots of attendance those days.
Also we got lots of your suggestions and impressions about our technologies and products. We are going use them as a reference in our new product development. We won't let you down.

Download

Exhibition content
introduction
Smartphone cooperation technology
We want to operate a smartphone in safety
The navigation function of a smartphone is utilized for driving by many users capable of obtaining map data or traffic information in real time and available free of charge. Besides, there are many users to drive listening to music stored in a smartphone. As the cooperation between a vehicle and a smartphone is advancing, a smartphone is going to play a key role of vehicle driving experience. Asahi Denso aims to provide technologies and products which enable the safe operation of a smartphone becoming a part of our life even in a driving of a motorcycle.
Smartphone control switch "Reference exhibit"
Drivemode is a leading app of Drivemode, Inc. to provide means allowing easy access to car navigation app or music playback app even in a driving of a motorcycle. At present, this is only for Android, but has already gained a high popularity around the world.
For this time, Asahi Denso exhibits a switch created by the collaboration with Drivemode, Inc. as reference allowing operation of Drivemode in hand while riding a motorcycle.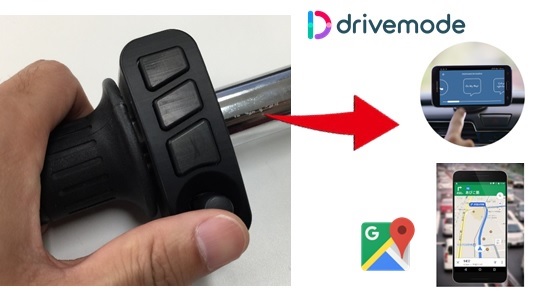 地図データ ©2017 Google, ZENRIN
Function
This is an operable switch of a smartphone without releasing hand from a grip of a motorcycle by connecting a smartphone using Bluetooth (BLE).
Features

A joystick corresponding to inputs from 4 directions and 3 buttons are mounted
A secure operation feeling with a mechanical switch
To correspond to a screen scroll and magnification/reduction of Google Maps
To correspond to waterproof level IP65/67
Drivemode introducing video
This is an introducing video (in English) of Drivemode. An example for an automobile is introduced, but this will also be available for a motorcycle by combining with the smartphone control unit of Asahi Denso.
Human-machine interface technology
Connect a vehicle with human comfortably
Many switches engaged in development by Asahi Denso have a role to connect a vehicle with human. Especially, a handle switch of a motorcycle is frequently used during running and the user satisfaction is largely changed by how the many switches are arranged.
National Institute of Advanced Industrial Science and Technology (Digital Human Research Group, Human Informatics Research Institute) assists us in developing switches not only for function or design but for easy to use for everyone and makes it possible to create a model for virtual evaluation of the switch operability.
It becomes possible not to create a burden on users and to realize "The process of manufacturing safer and easier-to-use products" having more natural and comfortable operability by evaluating the switch operation quantitatively resulting from the reproduction of verious constitutional users to use this human 3D model (digital human model).

CAN communication capable switch
As a vehicle is electronized and multi-functioned, a meter operating switch is mounted for a handle switch of a motorcyle in addition to horn, turn signal and flasher. If you try to connect each switch with cords one by one, you need cords as many as the number of switches and it requires enormous wiring work. So, in-vehicle network is introduced to solve the problems of wiring complexity by making network for communicating with ECU.
The method which becomes the mainstream as the in-vehicle network is CAN communication. CAN communication is adopted in a wide range of fields such as industrial equipments, agricultural machine, medical equipments, railways, vessels, aerospace etc. besides automobiles.
Asahi Denso developed a handle switch corresponding to this CAN communication. This handle switch makes it possible to exchange or control the various information of a vehicle in CAN communication by using only 4 cords and not to increase the number of cords despite the increased number of switches and not only to contribute miniaturization but also to release troublesome of cord wiring. Please take a look at an actual part at the hall.
An accel position sensor fixed inside a handle pipe
An accel position sensor is a sensor to measure the twitst amount (throttle opening) of a throttle. The measured value is an analog value indicating the operation amount of users and the data sent to ECU is a digitalized signal. It is necessary to transmit the motion to ECU without an incongruity feeling or a time lag which was once a direct operation of a throttle valve by a mechanical wire. Asahi Denso has various know-how of rotation angle detecting accuracy obtained through developing vehicles for a motorcycle race and has a lot of success adopted by mainly overseas customers.
For this motor show, we exhibit an accel position sensor which is a type of a sensor fixed in a handle bar. The accel position sensor which is mass produced currently has a built-in sensor in a handle switch, so a handle switch becomes larger by that amount. It is possible to downsize a handle switch by placing a sensor inside of a handle pipe.
Security technology
To realize both security (theft prevention) and convenience with mechatronics
Our theft prevention technologies such as an immobilizer and a shutter lock have contributed to the decrease of motorcycle theft. A shutter lock having the mechanical solution of theft prevention function is one of the typical product of Asahi Denso.
For this time, we exhibit "Smart system" developed for the purpose not only to enhance security but also to improve user convenience.

Smart system
The "Smart system" is a smart key system utilizing "Wireless communication" and "CAN communication"proposed by Asahi Denso.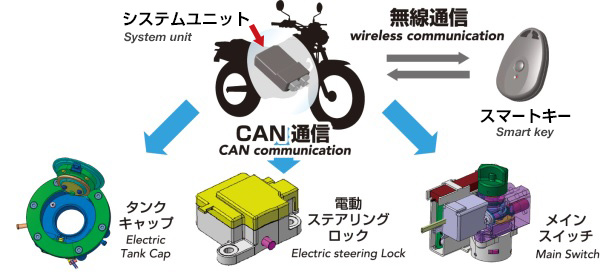 A request signal is sent toward the surroundings using a low frequency (LF) band wireless transmitter from the central system unit of a smart system. When the user having a smart key closes to the vehicle and receives the signal, a unique code from the smart key is sent back to the unit. The unit judges the user as the owner of the vehicle by authenticating the returned unique code. The unit has a high theft prevention performance because this specific code has a pattern of more than one trillion ways.
In addition, the system unit is not only to provide the keyless entry function but also to communicate with a tank cap or an electric steering lock or a main switch having an electric actuator by utilizing CAN communication after authentication and to become triggers for various motions. Please take a look at the actual motion of products at the hall.
We are also able to provide a function to transmit the tire pressure information etc. to ECU as a receiver of TPMS (Tire Pressure Monitoring System).
Vehicle management technology
Vehicle management brings safety and comfort to users
It is widely known to everyone capable of the performance improvement of a vehicle and the support for drivers by using the vehicle management technology to integrate each part of a vehicle utilizing CAN communication. For this time, Asahi Denso exhibits the vehicle management technology for a motorcycle.
LCU (Load Control Unit) "Reference exhibit"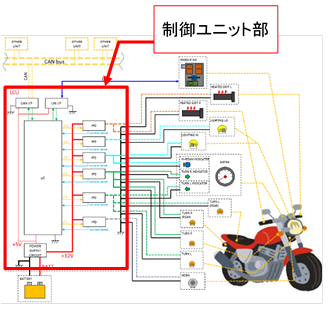 A conventional handle switch was restricted to downsize because it turned ON/OFF the current of several A (amperes) directly flowing through a head light or a winker lamp. The LCU exhibited in this time performs the ON/OFF motion instead of a handle switch. This makes it possible that a handle switch itself corresponds only to the current of several mA necessary for the unit control and can be miniaturized.

Function
This is a control unit to manage and control vehicle real loads (headlight, winker lamp, horn, grip heater, etc.) collectively. This makes it possible to inform a user an abnormality with CAN when an abnormality occurred at the load such as a winker lamp burnout etc.
Features

To monitor a load condition and cut off the current at abnormality (fuse alternative function)
To realize high durability and long life by using a non-contact relay with FET
Motor drive is possible by mounting a H bridge motor driver
To correspond to CAN/LIN
Asahi Denso booth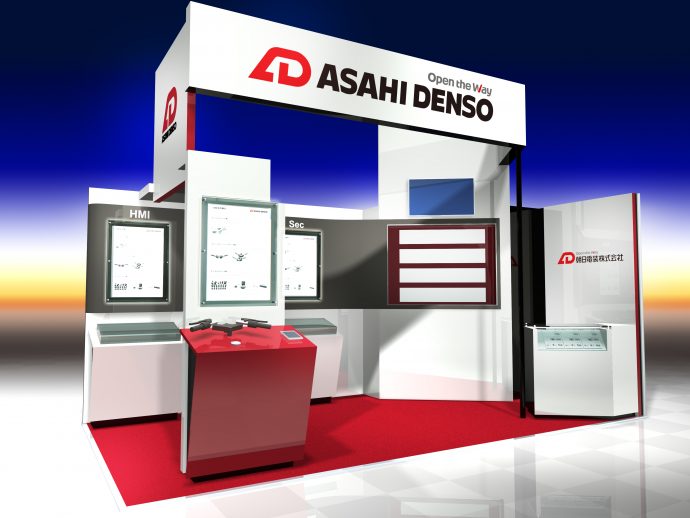 Asahi Denso booth is located at west 3 and west 4 in the 4th floor of west exhibition hall in Tokyo Big Sight. Our booth number is W3608.
We are looking forward to introducing you our technologies.
Outline of the 45th Tokyo Motor Show 2017
Name of Event
The 45th Tokyo Motor Show 2017
Organizer
Japan Automobile Manufacturers Association, Inc. (JAMA)
Co-Organizer
Japan Auto Parts Industries Association (JAPIA)
Japan Auto-Body Industries Association, Inc. (JABIA)
Japan Automotive Machinery and Tool Manufacturers Association (JAMTA)
Japan Automobile Importers Association (JAIA)
Patron
Her Imperial Highness Princess Yohko of Mikasa
Chairman
Hiroto Saikawa (Chairman of Japan Automobile Manufacturers Association, Inc.)
Show Dates
Dates
October 27 (Thu.)-November 5 (Sun.), 2017
Press Days
October 25 (Wed.):
8:00-18:00
October 26 (Thu.):
8:00-13:00
Special Invitation Day/Special Invitation Day for Persons with Disabilities
October 26 (Thu.):
13:30-18:00
Official Ceremony Day (Guests for opening ceremony, etc.)
October 27 (Fri.):
12:30-18:00
General Public Days
October 28 (Sat.)-November 5 (Sun):
October 30 (Fri):
12:30-20:00
Mon-Sat, and Holiday:
10:00-20:00
Sundays:
10:00-18:00
Venue
Tokyo Big Sight
3-11-1 Ariake, Koto-ku, Tokyo [http://www.bigsight.jp/english/]
Support
Ministry of Foreign Affairs
Ministry of Economy, Trade and Industry
Ministry of Land, Infrastructure, Transport and Tourism
Ministry of the Environment
Tokyo Metropolitan Government
Chiba Prefectural Government
Organisation Internationale des Constructeurs d'Automobiles (OICA)
Japan External Trade Organization(JETRO)