On this occasion, Asahi Denso had the honor of receiving the Kawasaki Motor's "2021 Superior Quality Award".
This award is a very prestigious award given only to suppliers with product excellence.
In addition to our zero defect products, it was given as a token of Kawasaki's recognizing our willingness to make improvements.
We would like to express our sincere gratitude to Kawasaki Motors for their support and business partners for their cooperation in receiving this award, as well as to all those who have supported us.
We will continue to commit ourselves to meet the expectations of our customers and we would appreciate your continued support and guidance for our business operation for the future.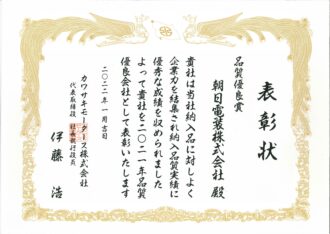 Please see the past awards from here