On this occasion, Asahi Denso won the silver award of Kubota Corporation's "Yukyu-kai Purchasing Community Kaizen Activity 2021".
This award is given to cooperating companies that have achieved excellent results in the Kaizen Activities carried out as part of Kubota's cooperative association activities, and we were chosen for our correct use of improvement methods and our willingness for doing it.
We would like to express our sincere gratitude to Kubota for their support in us receiving this award, as well as to all those who have supported us.
As we continue to commit to our work to better respond to your expectations, we would highly appreciate your continuous support and wish you continued success.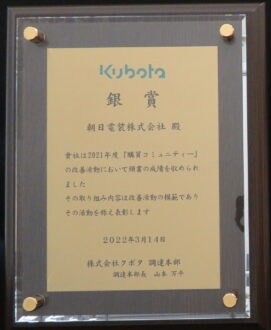 Please see the past awards from here