This joystick controller is designed for marine vehicles which features comfortable operation feel and stylish illuminations. It combines contactless sensing technology proven in our APS products with secure waterproofing and durability proven in our products for marine and construction vehicles.
Product structure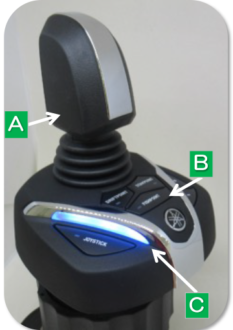 | | | |
| --- | --- | --- |
| A | Knob | Rotates right & left, tilts in all directions. |
| B | Push-button switch | With illumination indicator. |
| C | Illumination | Visible during daytime as well as nighttime. |
Features
Texture
Elastomeric material is adopted as the knob's surface which realizes pleasantly soft texture.
CAN communication
Highly reliable communication system is employed enabling to reduce electric wires used.
Waterproofness
Waterproofing specifications to meet the customer requirements are provided.
Example of application
The joystick product has been adopted for Yamaha Motor water vehicles.