Product Description
This product can operate a smartphone as a key using Bluetooth® communication.
Once you install the app on your smartphone and register as a user, the system recognizes the user and locks and unlocks the vehicle.

Features
Smartphone support
The app installed on your smartphone (iOS, Android) works with this product and functions as a key.
Users will be able to use it as a key by installing and initial setting the designated app.
After initial setup, the application will respond and unlock by pressing the vehicle access button.
Apps are also available with APIs. You can also develop your own apps and register them in the App Store and Google Play Store.
The elimination of the need to provide a smart (Fob) key not only reduces costs, but also allows for flexible response to situations such as semiconductor production stoppages.
Theft resistance and security
Using CAN communication with the vehicle minimized the external wiring and brought highly noise-resistant.
Built-in control circuitry including Bluetooth and CAN communication eliminates external exposed wiring from the motorized section to the control section and improves resistance to theft.
Steering lock can only be locked by turning the steering wheel to the left, but this product automatically locks by turning the steering wheel even after the lock operation.
Lock bar position detection function:
Lock bar position can be checked via CAN communication.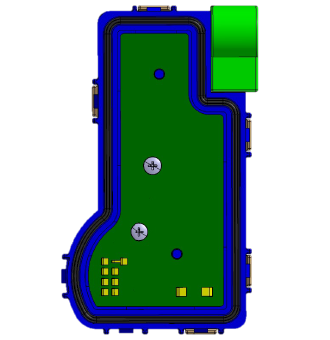 Control circuit built in waterproof structure
Downsizing
Directly connected waterproof connector
The mating connector fits into the outer case of the lock in the connected state.
Built-in control circuit
The control circuit and the antenna are placed in a waterproof structure.
Installation on vehicle
The L-shape structure below allows the lock bar to protrude in the lateral direction, making it flexible for vehicle installation.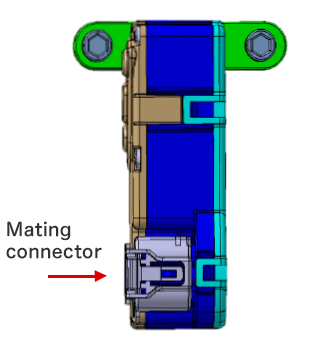 Mating connector fits inside the outer case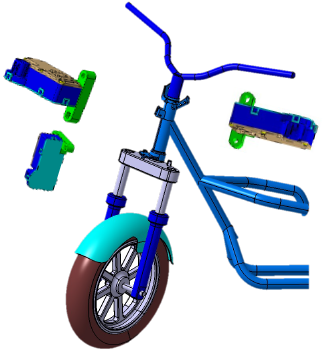 L-shape is flexible for installing on a vehicle body
Compatible with EV motorcycles
Since it supports input voltages from 12 to 72 VDC, it can be directly connected to the battery of an EV.
Direct connection reduces unnecessary power loss and significantly reduces battery capacity loss.
Cost reduction
Cost reduction
Cost-conscious design causes that the cost is halved compared to the conventional smart(Fob) key system.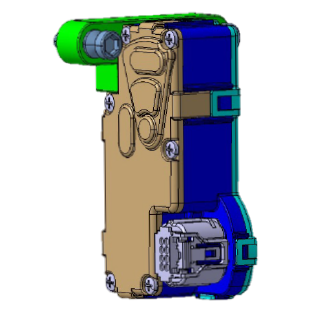 EV-compatible Small and inexpensive