Unlike the conventional tank cap which functions with mechanical key, this new product corresponds to the hands-free system that enables unlock/lock operation just by carrying the FOB key.
System Configuration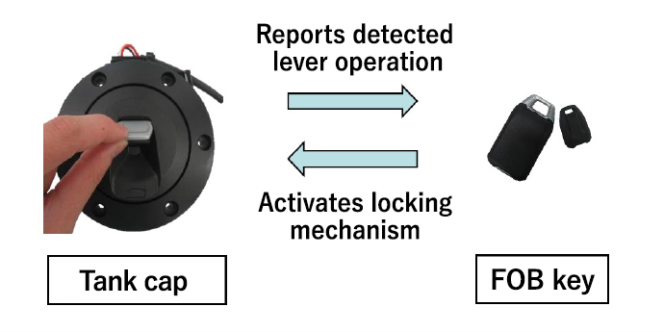 Features
Size
Achieves the same size as a conventional tank cap while corresponding to the hands-free system.
This product can be mounted on conventional motorcycles without changing body configuration.
Lightweight
Obtains lightweight by positive use of resins for its material.
In terms of strength, this tank cap satisfies the evaluation specifications for motorcycles.
Waterproof/Dustproof
Electronic components are IP 67 equivalent.
The sliding component inside the tank cap is designed to keep water and dust away; this structure allows the system to function normally even after driving in rainy weather.
Actual Example of Application
This product has been used for motorcycles made by an European motorcycle manufacturer since 2021.