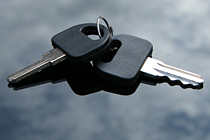 Realization of advanced security in mechatronics
Our immobilizer and shutter lock has contributed to motorcycle theft decrease.
 Shutter lock has the mechanical function of the antitheft that one of the typical product of Asahi Denso.
For further strengthening of crime prevention, we developing system to match in the radio code of IC with built-in key (immobilizer).