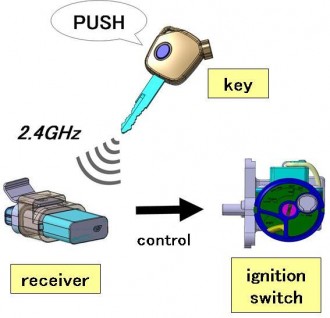 "Remote-control key shutter" is a typical product which uses communication technology.
When you press the button on the portable key, it communicates with the receiver via 2.4GHz frequency band and the receiver opens/closes the key shutter and commands answer-back. In ASEAN countries motorcycle is the most common transporter, and especially more than 70% of households in Thailand and Vietnam have a motorcycle Therefore sometimes you can't find your motorcycle when you park it at the street full of motorcycles. But with the help of answer-back function, you can find your own bike more quickly. Moreover, LED lighting around the keyhole enables you to easily find the position of the keyhole even at night.
We are developing products with high convenience like this.
Remote Control Key Shutter
In February, 2014, the motorcycle registration number in Vietnam exceeded 39 million.The number of registered motorcycles in Ho Chi Minh City, the largest city in Vietnam, is six million, relative to the population of about seven million.The traffic congestion is a serious problem, as the transportation infrastructure is not fully built yet.In such a motorcycle nation.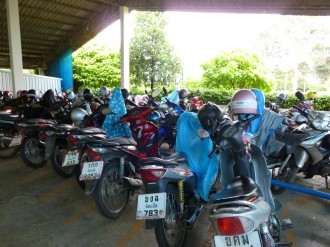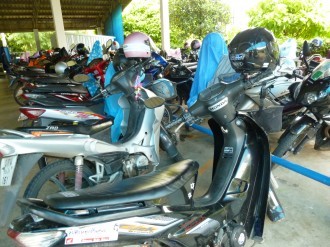 you may have difficulty finding your vehicle from among a large number of motorcycles in a parking lot.This is where the "Answer Back Function" comes in. The answer back function enables you to locate your motorcycle easily. When you press the switch on the key, communication will be established to notify you where your motorcycle is with flashing hazard lamp and alarm sound.
What is a Remote Control Key Shutter?
This product realized "Answer Back Function" and "Key Shutter Auto-release Function" by integrating the communication technology into the ignition switch equipped with a key shutter.Picking prevention technologies include a key shutter, which consists of an ignition switch and a shutter.
We made the remote control key shutter by adding useful functions to this key shutter.
The features of Asahi Denso's Remote Control Key Shutter
The key shutter for preventing lock-picking was released in 1998. Asahi Denso was the world's first company to develop it.In those days, it was called "P-shutter-kun" as a nickname in our company.It was a combined word made of the sound of a closing shutter and the word "shutter".It is common to equip small motorcycles with such a function these days, but it was an innovative product in those days.
.Our remote control key shutter was developed to add values to the now-common key shutter.We added the "Answer Back Function" and "Key Shutter Auto-release Function" to the key shutter, which was only for picking prevention.
The frequency band of 2.4 GHz is used for communication between a remote control key and a vehicle.The frequency band is called "ISM band (Industry Science Medical band)" and is open to use without a license if the output is 10mW or less. It is used for equipment of industrial, scientific, and medical fields.It is also used by the Wi-Fi and Bluetooth equipment.
.The ISM band includes the frequency band of 920 MHz as well as the 2.4 GHz band.The 920 MHz band has longer range and has the characteristic that it can establish communication by going around obstacles because of its high diffraction performance.However, it is not suitable for products that needs to be downsized such as remote control keys.Also, since the remote control key works on a coin cell battery, its power consumption needs to be reduced to elongate the life of the battery.We adopted the 2.4 GHz band partly because using 2.4 GHz band requires less power consumption.
Delivery Record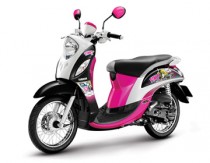 ⇒Remote Control Key Unit for "FINO" of Yamaha Motor Co., Ltd.