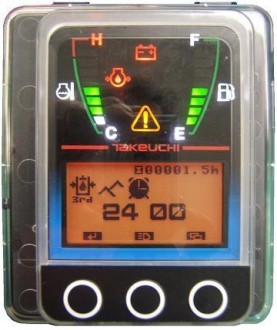 The instrument panel which displays various information on the vehicle uses in-vehicle network such as CAN or LIN for exchanging the information.
Currently, it becomes a commonplace that vehicles are electronically controlled. To realize this, it is required that ECUs and sensors have to communicate with each other.
For example, instrument panel requires information from speed sensor to indicate the car's speed.
And, electric power steering/EPS, transmission and antilock brake system/ABS also need information to control themselves.
You will end up with huge harnesses when you try to wire them on a one-to-one basis.
Therefore in-vehicle network has been developed so that it solves the problem of complexity of wiring by networking communications between ECUs.
Not only in automotive, CAN also adopted in a wide range of industrial fields such as industrial equipment, agricultural machineries, medical equipment, railroads, ships and aerospace.
We developed an instrument panel with a digital LCD display for construction machineries.
In addition to the display features such as vehicle speed, fuel level, warning and water temperature, this instrument panel has DIAG function.
DIAG stands for 'Diagnosis', and it means a self-diagnostic function that checks various sensors on an electronically controlled engine whether work correctly or not.
By connecting via CAN, the instrument panel can exchange and control of various information on the vehicle and we can implement features such as DIAG function to it.