Sealing has two functions. Block to entry of water and dust into products. Prevents to leakage of gas and liquid. We use the sealing for waterproof and dustproof. It's not too much to say that products are always wetted by wave or rain. We must satisfy specification in inhospitable environment.
We use rubber parts(O-ring, rubber boot, pacing) to small waterproof switch.We chose the best rubber material for the mounting location and use. If you are installing inside the product, we use NBR (nitrile rubber) of better oil resistance, under grease adhesion. When attached to the external face, we use EPDM (ethylene propylene diene rubber) of better ozone resistance.
Sealing products compress the rubber, and make the seal by using the elastic force. Crush rate of compressed rubber up to 25% and 8% minimum. Need to set the crushing ratio to this range in consideration of the expansion and compression due to changes in the external environment. In general, Rubber has the risk of causing compressive crushing crack ratio exceeds 40%. So care must be taken.

Concept of Waterproof Configuration
  In case the Waterproof Level is IP67
    (Degrees of protection: The 1st characteristic number 6: Resistance to dust,
                The 2nd characteristic number 7: Protect so that objects are safe in water)
     Degrees of protection IP code
For fixing (1)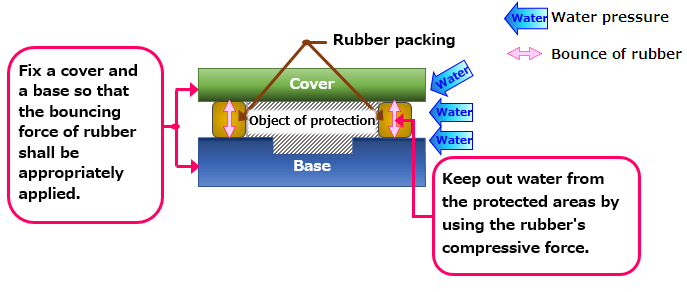 For fixing (2)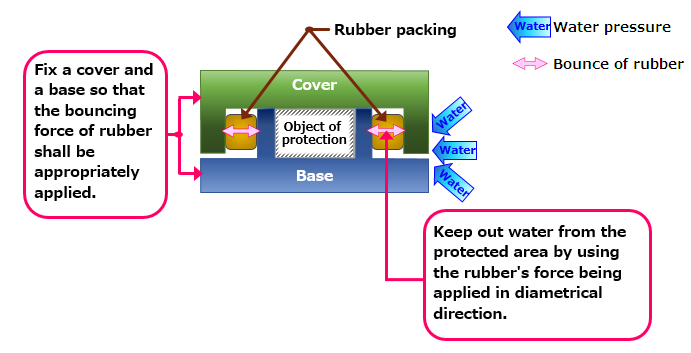 For fixing (1)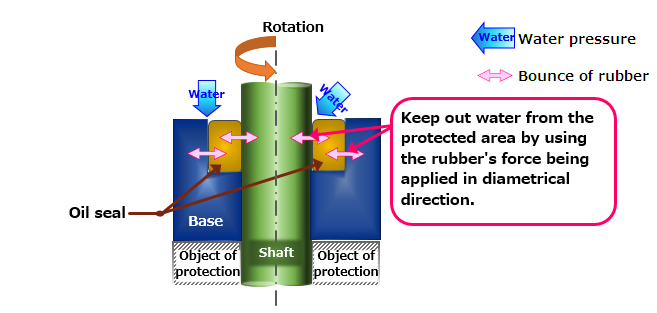 For fixing (2)
We ask about act to meet your requests
We, at Asahi Denso Co., Ltd have wide experiences in waterproof construction in areas such as motorcycle, automobile, marine vessel, all-terrain vehicle, construction machine, agricultural machinery, and industrial equipment. An extensive knowledge we have accumulated over the years enables us to offer various kinds of products, each best suited for a specific purpose or an usage in particular environment.
As to the level of resistance to water, we can offer plans for products with the Protection Degree of up to "IPx8", depending on structure.
Please contact us for what we can provide for your products that need protection against water.