Product Description
This product is designed for Yamaha Motor outboards. It is installed on the boat's instrument panel and operating its levers allows to control the boat propulsion.
Turning on each switch of the product activates relevant optional function.
Each switch has illumination which indicates the switch status with colors.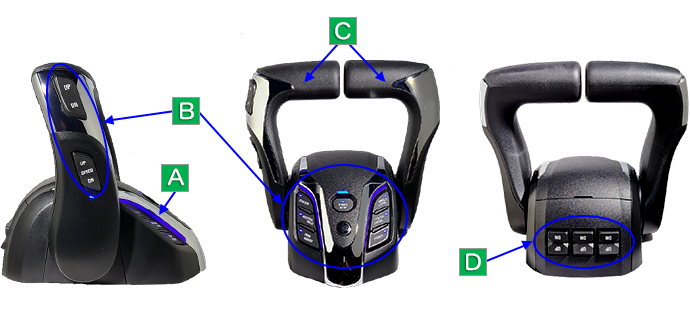 | | |
| --- | --- |
| A | Illuminated line |
| B | Multi-functional switches |
| C | Operation levers with elastomer grips |
| D | Tilt switches |
Features
Stylish design
Multiple-color LEDs are used for the illuminated lines providing multiple-color illumination.

Data communication
The CAN bus communication is adopted ensuring high immunity to external noises and reduced number of cables used.
Waterproofing
The product is waterproofed to enable its use in the harsh conditions of the marine environment.