Product description
This product allows the watercraft to move forward by grabbing the throttle lever, and to move backward by pushing the reverse lever with the thumb. Unlike conventional throttle lever products, this product enables reverse operation and deceleration with a single hand.
Configuration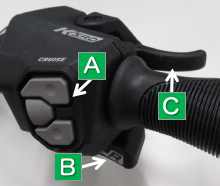 | | | |
| --- | --- | --- |
| A | Push switch | Push the switch to control engine rpm and others. |
| B | Lever | Push in the lever with the right thumb to move backward. |
| C | Lever | Grab the lever to move forward. |
For details of APS (Accelerator Position Sensor), click here:
APS or Accelerator Position Sensor
Example of application
The throttle lever APS has been adopted for a Kawasaki Jet Ski watercraft, which is mounted on the right side of the handlebar.