SW BOX
Space-saving
Multi-color LED
Dimming control
Product Structure
Since multiple switches are combined as a single unit, this product has a space-saving design.
It can also show different appearances using multi-colored LED lights and dimming control signals.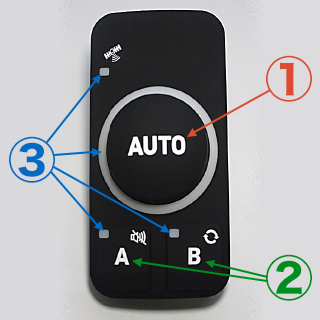 ① AUTO switch
The switch positions are detected using a micro switch.
② A/B switches
The switch positions are detected using a tactile switch.
③ Indicator
When the lighting control signal is received, the LED light comes on.
Features
Different appearances using LED lights
The three indicators (the GNSS* indicator and indicators of the A/B switches) come on in two different colors (red or green). Each color shows the state of the relevant switches.
The indicator of the AUTO switch surrounds the entire circumference of the switch, and comes on in green. It also comes on in a different pattern according to the lighting control signal.
The indicators use a high-intensity LED light. Therefore, the operator can visually confirm that the switches are turned to "On" or "Off" even outdoors.
※GNSS … Global Navigation Satellite System
Waterproofness
The product has a built-in connector so that the connecting portion can be waterproof at low costs.
The product is covered with rubber material. This prevents water, mud, or other contaminants from entering the PCB.
Signal transmission via a CAN bus
A CAN bus communication system is used for signal transmission, minimizing the need for wiring connections.
Due to a high baud rate, the system can smoothly transmit LED lighting control signals or signals regarding the state of the switches.
Operability
The switches are designed so as to ensure an optimum operation feeling. The operation force is set so that the switches can be pressed easily, as well as providing a good tactile response.
Example of Actual Use
This product is used as an auto switch for a rice-planting machine (with a straight-running support function) that is made by YANMAR AGRI JAPAN CO., LTD.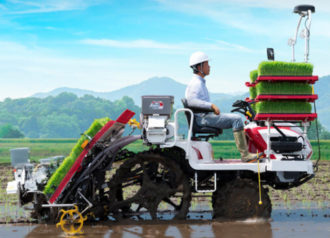 Note: The information is disclosed with permission and goodwill of the customer.