Product Structure
The Jog Dial is composed of a joystick, encoder, push knob and push switches. It combines multiple switches into a single compact unit, enabling easy and efficient operation.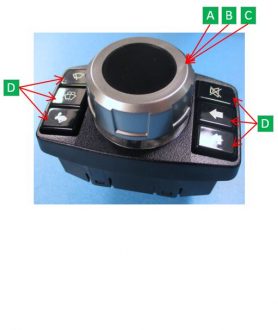 A. Joy stick
 ・Magnetic sensor detects tilting of the shaft.
・Movable in 4 directions of up, down, left and right.
B. Encoder
 ・Magnetic sensor detects magnets aligned on a ring.
 ・Outputs: 18 clicks/circle
C. Push knob
 ・Magnetic sensor detects approaching magnet.
D. Push switches
 ・Microswitch detects pushing actions.
Features of Asahi Denso Jog Dials
Signals are entirely communicated by CAN outputs
Use of CAN outputs allows to minimize physical wiring.
Noise-resistant and high-speed data transfer is possible.
Water resistance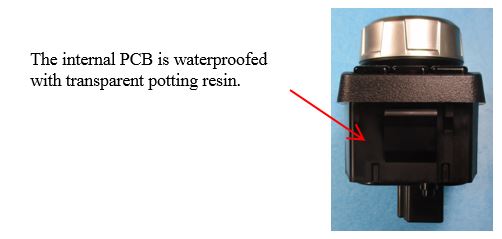 Illumination
Illumination of the knob + switch marks can be dimmed.