Product Structure
The product we would like to introduce this time is made up of an APS unit, an engine stop/start switch, a hazard switch, and a cruise control switch.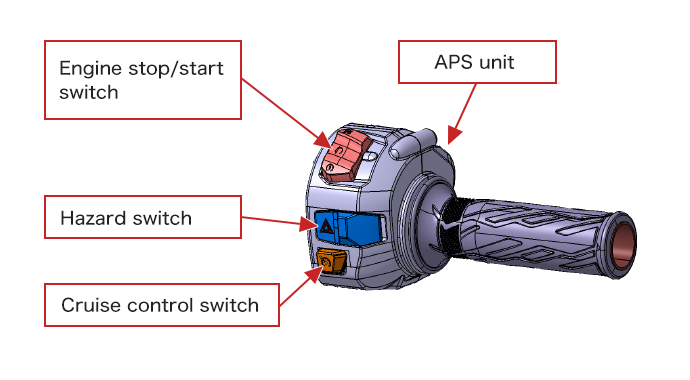 APS(Accelerator Position Sensor)
The APS (Accelerator Position Sensor) is a sensor that can detect the operating angle of a throttle grip.
The sensor transmits the signal regarding the throttle operation by a rider to an ECU.
For more information on the APS, see the following page on our website:
-->https://en.ad-asahidenso.co.jp/technology/sensing-technologies/aps/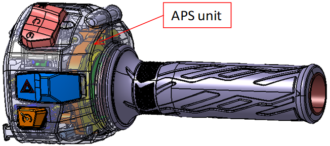 Features
Waterproofness
As a waterproof measure, the PCB inside the APS unit is encapsulated with a filler.
Operability
Due to the structure that is similar to a mechanical (wire) throttle, the product provides a stable operation feeling.
The product also features a cruise-control canceling function, which is activated when a rider operates the throttle grip in the returning direction.
Reliability
The APS exhibits high operation durability.
Examples of Actual Use
This handlebar switch assy. is used for large motorcycles that are made by SUZUKI MOTOR CORPORATION for overseas.
Note: The information is disclosed with permission and goodwill of the customer.